Change most often happens through rich dialogue that provokes us to re-examine our current practices, explore new ideas and, mostly importantly, change inspires us to try something new. So, join InnEdCo Conversations!
InnEdCo 2012 Conversations are about learning with technology by giving participants the opportunity to connect with educators and technology specialists, as well as school and district leaders. We'll use 21st Century Skills as we communicate, collaborate, and think critically to create new solutions for transforming our classrooms. Mark your calendars! Space is limited, so register today.
Host Kim McMonagle is Director of Educational Technology for the Douglas County School District and serves on the InnEdCo Board of Directors.
InnEdCo Conversations (all held from 7:00pm – 8:00pm MDT)
———————————————————————————————————-
ARCHIVED TIE 2012 Conversations
April 11, 2013  InnEdCo 2013 Conference & Powered By Schoology archived session.
Learn more about the sessions and how we'll use Schoology as our collaborative learning space. Presenters will share resources and use the Schoology groups to create a participatory culture in each session.
TIE 2013 Conference attendees are encouraged and invited to join Schoology. Create your login today. Access the TIE 2013 Conference Schedule. Each session description includes a Schoology code so you can join the session group. Your session facilitator will update the group with resources and use the group as a back channel. We hope you are INSPIRED to connect with attendees during the conference and beyond. Having a collaborative learning space allows us to continue connecting and sharing resources, lessons learned and challenges. 
———————————————————————————————————————-
March 2013 - Guest Dan Maas, Littleton Public Schools Chief Information Officer of Technology discussed
in our archived TIE Conversation: "How can we increase student achievement in writing with digital tools?"
Resources to explore:   Inspired Learning - 2012-2013 - Website  4-12 Science / Social Studies
Inspired Writing Revisited - Website
———————————————————————————————————————-
"Transforming Libraries Into 21st Century Learning Commons" - Archived Session

On Tuesday February 5, 2013 join co-hosts Linda Conway, Library Media Director and Kim McMonagle, Director of Ed Tech and who serves on TIE Board of Directors, to discuss how we can transform our libraries into 21st Century Learning Commons. Find out how digital tools support learning in the Learning Commons.
Transforming libraries resources to explore.
See examples.  And check out the ThunderRidge Learning Commons video & plans.
————————————————————————————————————
"Digital Media to Empower Learning"
Guest: Discovery Streaming educational consultant, Patricia Fowler
Learn how to use digital media: videos, images, audio files in writing prompts to stimulate deep thinking and rich communication.
We'll explore how to incorporate digital media in project based learning to empower learners to be meaning makers.
—————————————————————————————————————————————————
"Warning! All technology uses are not equal!" archived session.
TIE 2012 Leadership Academy Keynote: Bernajean Porter
Our goal upon leaving TIE 2012 Leadership Academy was to collect "Return on Learning (RoL)" data and use these observations to inform your organization's technology plans. Formulate your next steps and prepare to share your data, analysis and questions in a follow up online TIE Conversation with Bernajean Porter and Kim McMonagle October 10, 2012.
Article by Bernajean: Data-Driven Dialogues Increase the Speed, Breadth and Depth of Student Learning Results 
H.E.A.T. Up Chart - Thinking about driving questions, higher order thinking in our learning opportunities.
Observation Data Collection Form - Click FILE>Make a Copy or download the form to use it.
Align your observations to the Grapplings Spectrum of tech uses: Transformative, Adaptive, Technology Uses
Join us on October 10, 2012 - simply Click this link to join the session.
Choose guest and type your name to enter the room. No passwords.
————————————————————————————————————————————————-
Edmodo: What is it? How will we use it at TIE 2012 Conference? archived session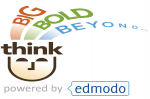 Social Networking for education using Edmodo. Assignments, classrooms in and out of school, students connect, collaborate, communicate, creatively solve problems and think critically. TIE 2012 Conference Powered by Edmodo - learn about what it is and find out several classroom connections for how educators, schools, professional learning networks and districts are using it!  Join Liz Doogan from Edmodo and Kim McMonagle, a member of the TIE Board of Directors,  in a conversation about the power of Edmodo in learning.Edmodo & TIE Presenters - learn about Edmodo features.
TIE CO Powered by Edmodo Handout
————————————————————————————————————————————————-
Creating a "Bring Your Own Device" at the classroom archived conversation at the school or district level. Special thanks to Kelly Sain, Educational Technology Manager BVSD and Principal Jerry Anderson.
Additional Resources for Bring Your Own Device:
Explore TEC: Play a simple game of TEC B-I-N-G-O.
Presentation used in this conversation. You can use it, or make a copy and adapt it to meet your needs.
Bonus: see BVSD Monarch High School B.Y.O.T to support a 1:1 device to learner.
—————————————————————————————————————————————————
Writing Ideas with Apps & Web 2.0 for the iPad with Co-hosts Michelle Bourgeois & Kim McMonagle, February 2012
Additional Resources for Writing Ideas with Apps & Web 2.0  on an iPad:
Explore TEC: Play a simple game of TEC B-I-N-G-O.
Presentation used in this conversation. You can use it, or make a copy and adapt it to meet your needs.
Bonus: see & click on links, watch embedded videos in a CASE presentation, "Using iPads for Learning & Professional Tool" shared with school and District leaders.
——————————————————————————————————————————————————-
Lose the Lecture: Go Digital! conversation with co-hosts Michael Wacker and  Kim McMonagle, January 2012

We explored…
NPR Podcast: Physicists Seek to Lose the Lecture As Teaching Tool 
Flipped Classrooms - Go digital with podasts, vodcasts.  Flipped Classroom Manifesto
Video: Sal Khan - Let's use Video to Reinvent Education
RESOURCES SHARED in the TIE 2012 Conversation "Lose the Lecture: Go Digital!"