Keynotes: Pam Moran  and Ian Socol
Pam Moran and Ira Socol bring differently diverse backgrounds to the conversation about leadership in contemporary education.
Pam, the Superintendent of the Albemarle County Public Schools in Virginia has worked in every level of K-12 education, teaching science in high school and middle school, serving as a secondary assistant principal and an elementary principal, and as adjunct faculty for the University of Virginia. She has led curricular and professional development, and now supports a 13,000 student school division covering 726 square miles.
Ira, a research and teaching assistant in the College of Education at Michigan State University, has worked in law enforcement, architecture, art and design before becoming a leader in technological services to those with special needs, working in universities, K-12 schools, businesses, and vocational rehabilitation services. His research explores both the re-design of educational institutions with Universal Design technology and the history of education and technology, research which is done and presented globally.
Though Moran's experience as a student was continual success, and Socol struggled through school as a special needs student, both have come to understand that the system design of the American school fails far too many children, and that real change, real reform, requires both new paradigms of leadership and new understandings of the process of learning.
Moran works in leadership roles in Virginia and national organizations, Socol through Michigan's technology leadership program and conferences around the nation. The two have combined to begin rethinking top to bottom leadership in schools, working in part from the historical viewpoint that the post-industrial, post-Gutenberg age needs to reconnect with the human leadership forms which dominated previous ages, just as many of our communication skills now must look to models which existed prior to the invention of the printing press.
The inside-out and outside-in perspectives brought by these educators are unified through interactive storytelling, co-facilitated conversations which lead to direct change actions which begin to shift schools and classrooms from traditional environments to contemporary learning spaces. They believe that educators who think, laugh, dream, create, design and build together will accomplish deep change with agility, commitment, and understanding within their own school communities, moving teachers away from the teaching wall as the dominant form of instruction, engaging learners in passion-driven, project-based learning work, and using the communications technologies of the present and future to re-write the rules of access, inclusion, and connectivity.
http://speedchange.blogspot.com/ https://sites.google.com/site/iradavidsocol/
Presenters for leadership academy day:
David Gregory - David began his career as a teacher and then moved to senior leader and technology curriculum manager. He moved to a consultancy role with R.M. PLC in 1999 where he worked with districts and schools to guide them through their development of learning with technology.  In 2004 the U.K. started its Building Schools for the Future program. In 2009 David moved to Colorado and established Gregory and Denby Associates. The company draws on the British experience (successes and lessons learned) and provides consultancy for vision and strategic planning that focuses the use of technology on developing 21st century learning. David has worked with a number of schools and school districts in Colorado, including Weld RE4, Edison 54JT and District 11.
Jeanne Hayes - The Hayes Connection provides a unique portfolio of consulting and advisory services. From essential market insight to sophisticated analysis of market trends and opportunities, The Hayes Connection works strategically with executive leadership, marketing, sales, product development, and business development teams to address critical market strategies and opportunities across the spectrum of K-12 education. Hayes' 30 years of strategic insights gained from building a business, creating databases, analyzing market trends and helping clients market to schools enable her to connect her clients to the education market.
Matt Kuhn - Mr. Kuhn is a Professional Staff Developer with Mid-continent Research for Education and Learning (McREL) and a Google Certified Teacher. He conducts teacher professional development in instructional technology integration, school leadership, and STEM pedagogy. He is a co-author of the book Using Technology with Classroom Instruction that Works, an ASCD 2007 publication. Current projects includes Power Walkthrough coordination for Summit S.D. in Colorado, Instructional Coaching for Sweetwater S.D. in Wyoming, Designing Effective Science Instruction Institute at McREL in Denver, and Leading Technological Change for Los Angles Cooperative Office of Education in California. He has taught science and math in grades 6-12 and was a school principal in Colorado.  He is a member of the National Science Teachers Association, the Association for Supervision and Curriculum Development, and the International Society for Technology Education. He also is an active member of the steering committee of the Colorado Science Educator's Network (CSEN).
Dee Larsen -  President, MasterTech Solutions, Inc.
MasterTech Solutions was born in 2005 from Dee's desire to help educators realize the power of their meaningful work. Dee's unique educational and business background, coupled with passionate and inspiring leadership, has allowed her to connect with a broad spectrum of clients - from one on one consulting with teachers to district-wide technology implementations. Dee and her team at MasterTech counsel school districts to, "Cut Costs, Not Technology" and provide the highest quality arsenal of tools to battle the current funding crisis. MasterTech Solutions, Inc. continues to be the "go-to" source in Colorado and Wyoming for educational consulting, professional development and instructional technology products that empower educators with solutions to significantly drive academic achievement.
Dan Maas - Ed.D., Chief Information Officer, Littleton Public Schools
Dan Maas was recognized by the Colorado Association of Leaders in Educational Technology, a department of CASE, as the 2010 Technology Administrator of the Year and served as CASE President during 2007-2008.  He has led the Information and Technology Services department at Littleton Public Schools for five years during which time the district has deployed open wifi services supporting BYOT (bring your own technology),  over 5,000 Linux-based netbooks, and extensive use of Google Apps for Education services.  The Inspired Writing initiative, which uses netbooks and cloud computing resources to facilitate the writing process, has been demonstrated by external researchers to have significantly raised student achievement in CSAP writing.  A keynote speaker for the 2011 Colorado Association of School Business Officials Spring Conference, Dan Maas addresses 21st Century skills from a pragmatic and common-sense point of view.  Dan Maas holds a Doctorate of Education in Leadership and Policy Studies from the University of Northern Colorado and a Master's Degree in Computer Information Sciences from Nova Southeastern University.
Most recently, Dan contributed a commentary for the June/July edition of ISTE's Learning & Leading with Technology (Vol.38, No.8) about whether students should use their real names on the web. Dan's blog post for the session:  http://www.littletonpublicschools.net/DISTRICTINFORMATION/CommunitySupport/GetInvolved/LPSBlogs/tabid/656/EntryId/409/TIE-2011-For-your-consideration.aspx
Denise Atkinson Shorey - President/Chief Information Officer  EAGLE-Net
Ms. Atkinson-Shorey recently accepted the position of President/Chief Information Officer for Eagle-Net, the statewide broadband cost-sharing consortium for K-12 and other non-profits in Colorado. In September of 2010 EAGLE-Net was awarded an NTIA Broadband Technology Opportunity Program (BTOP) Grant for more $100 Million. The grant is designed to deliver strategic Middle Mile Broadband to Community Anchor Institutions throughout Colorado. In 2009, Eagle-Net became the K-12 gateway for Internet2 and led the successful effort to make Colorado the 39th State to join Internet2 as a Sponsored Educational Group Participant (SEGP) along with the Front Range GigaPop (FRGP). In 2008 Ms Atkinson-Shorey serves on the Board of Directors for Consortium for School Networking (CoSN) the national School District CIO/CTO organization and works with them on national and international school and technology issues. She received the "CALET's Technology Leader of the Year Award 2008" for her work leading the statewide Internet2 K-12 Gateway. Denise has more than 30 years education and corportate experieince including elementary teaching, school library, vocational and educational technology experience.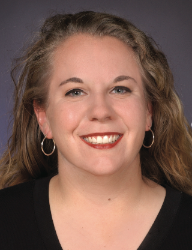 Michelle Warner | Director, Mobile WiMAX Services
Michelle is responsible for strategic planning, marketing and operations initiatives for Mobile Citizen. Previously, Michelle was the Director of Marketing at the St. Jude League where she managed the direct and online fundraising for the League's social justice, community development and education programs. Michelle also has experience working with nonprofits in the healthcare, economic development, higher education and athletic industries. Having built her career around helping nonprofits reach their full potential, Michelle understands the impact Mobile Citizen brings to organizations by giving them affordable access to the technology that will allow them to innovate and grow. Michelle received her MBA from the University of Chicago Booth School of Business and holds a B.S. from the University of Illinois.
Greg Wilborn - Greg Wilborn is an innovative educator and experienced consultant in the fields of instructional technology leadership and personal leadership development. He currently serves as the 21st Century Learning Coordinator for Colorado Springs School District 11 where he is developing systems to integrate and support 21st century skills in all classrooms to drive innovative, technology-rich learning for both students and staff.  He has presented at conferences for the National Staff Development Council, Technology in Education-Colorado, the International Society for Technology in Education, and various regional and local conferences. Greg has also provided workshops for companies such as MARS, Boston Scientific, the University of Colorado, Colorado College, and Prudential to name a few.