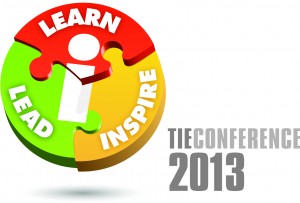 2013 Innovative Education Grants Announcement
 The Innovative Education Grants Program will provide up to 15 need-based stipends to Colorado educators to attend TIE 2013, June 18-20, 2013. The stipends will cover conference registration and all or much of their lodging expenses. Qualified educators must demonstrate: financial need or other hardship, have a focus for their learning that will impact their classroom and/or school, and be willing to share their learning with others in their organization and digitally. Administrator support is also required.
The online application is available by clicking here. The application deadline is midnight April 15th.
Awards will be announced on May 15, 2013. $800 Stipends to Attend TIE 2013 for - 15 Qualified Educators
2013 TIE Stipend Program
The Innovative Education Grants Program under direction of the TIE Board of Directors has fifteen $800 stipends to offset much of the cost of educator attendance at the June 2013 Conference—iLearn, iLead, iInspire. This grant may only be applied to the cost of 2013 conference registration and lodging at Copper Mountain Resort. After paying $330 for registration, recipients can use the remaining $570 to pay for most of their lodging at Copper Mountain Resort, meals that are not included in the conference registration, and travel expenses. Any expenses beyond the $800 grant must be covered by the stipend recipient.
TIE Stipend Goals:
1.          Support conference attendance for 15 educators. Recipients must attend the entire conference. Preference will be given to those who demonstrate compelling personal learning goals, a desire to share their learning with their colleagues,  and financial need.
2.          Increase the educational technological capacity in schools as documented by the recipient's school administrator.
3.          TIE will evaluate the success of the Stipend Program by the recipient's responses to the post stipend survey; publicity within the school, district and/or community and by sharing stipend products on school, district or other online repositories, or digital media.