Select TIE 2012 Session Recordings Are Available on Colorado iTunes U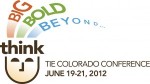 The TIE Board of Directors would like to thank the following presenters for allowing us to broadcast and share their conference sessions. Remote TIE 2012 was sponsored by a generous grant from the Denver Area Educational Telecommunications Consortium.
Blended Learning 101 - Michael Wacker, Denver Public Schools
Much has been discussed of late around Blended Learning and its role in our schools. Join Michael Wacker as he facilitates a discussion at the TIE 2012 Leadership Academy about what it is, what it is not, where it has been and where it's going.
Braincasting Using Your Classroom Computer – Len Scrogen, Future-Talk 3D
Teach creatively and effectively informed by research using classroom projectors and six big ideas. A year compiling research, resources, and best practices while completing over 300 classroom walk-throughs led to these transformational instructional ideas. 
Introduction to the Flipped Classroom, Jonathan Bergmann, Flipped Classroom Pioneer
The Flipped Class allows teachers to have more face-to-face time with students; allows for real differentiation; causes students to take responsibility for their learning; and allows students to master material. Learn how Jon Bergmann, Tech Facilitator and Consultant, made the transformation from a twenty-year lecturer to a flipped class pioneer.
iPads As a Learning & Professional Tool - Ally Berggren, Principal, Buffalo Ridge Elementary and Kiffany Lychock, Douglas County School District
Discover numerous ways school leaders are using iPads as a classroom observation tool.
Khan, Flips, Gaming, and Badges: Panacea, Accelerated Pedagogical Malpractice, or Somewhere Between? - Michael Wacker, Denver Public Schools
Flipping the classroom is an instructional model that allows teachers to be in two places at once to provide instant feedback and personalized pacing. This is a design session around what your classroom could look like when flipping your classroom is well done well.
Using Google Sites to Create Student Engagement - Debbie Blair, Technology Co-Teacher, Prairie Creek Elementary School
You can access over 35 iTunes collections posted by your colleagues at Colorado schools, districts, and organizations on Colorado iTunesU. Colorado iTunesU is an online project of eNetColorado. Visit the iTunesU page at eNetColorado if you have content to share or if you want to learn more.